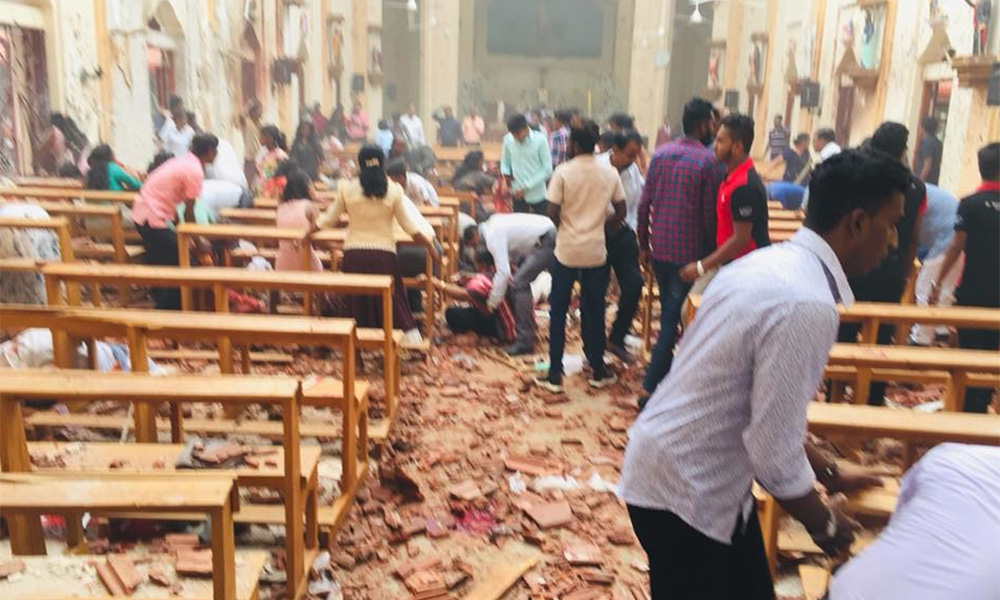 TIME THE GLOBAL COMMUNITY ADDRESS CHRISTIAN-PHOBIA THE HATE FILLED NARRATIVE THAT JUSTIFIES MURDERING CHRISTIANS SAYS MALAYSIA ASEAN APEC LEAD HUMAN RIGHTS ACTIVIST PROF DR JACOB GEORGE!
A newly minted Tourism, Arts and Culture Minister of a certain country had dismissed a travel advisory issued by the US that placed his country on the "K" list of countries with risks of kidnapping and hostage-taking.
This law maker who already has had made serious silly and stupid statements a month ago once again confirmed reports and allegations he is unqualified to hold ministerial office when he foolishly in a media interview questioned the US government's rationale in issuing his country on to a "K" list of countries with risks of kidnapping and hostage-taking.
He even had the audacity of stating the following remark on the United States of America's advisory by saying:
"I don't know whether they are smart or dumb. Our country has no problems.
"How is it that the Americans, from so far away, they can (claim to) know better there are problems here?"
This comes a day after a wave of bombings that killed 290 people in Sri Lanka was carried out with certainly the support of an international network!
At the time of writing the Sri Lankan government seems poised to blame a little-known local jihadist group, National Thowheed Jamath, although no-one has yet admitted carrying out the bombings and certainly the professionalism, competence, skills, knowledge and both logistics and supports systems denote a far dangerous and ruthless group behind this carnage.
So far 290 people have been killed and another 500 people injured in the suicide attacks on churches and hotels.
Yesterday, I congratulated the Sri Lankan security apparatus for the arrest of 24 people in a series of raids while the president's office declared a state of national emergency.
This is a strategic move as the emergency declaration, which comes into effect from midnight (19:30 GMT) on Monday, will give police and military extensive powers to detain and interrogate suspects without court orders.
The intelligence reports making the rounds that Sri Lankan authorities were warned about a bomb threat from National Thowheed Jamath a full two weeks before the attacks, denotes there are today political divides among rival politicians in high office who put their personal political agenda and interests among the countries!
It is shocking hearing the statement made by cabinet spokesman Rajitha Senaratne at a press conference that the warnings were not passed on to the Prime Minister, Ranil Wickremesinghe, or his cabinet.
Mr Wickremesinghe acknowledged that security services had been "aware of information" but had not acted on the information.
This is a colossal criminal failure and irresponsibility!
It is also embarrassing to hear Defense Secretary Hemasiri Fernando telling the BBC that the intelligence "never indicated it was going to be an attack of this magnitude".
"They were talking about isolated, one or two incidents. Not like this," he said.
He said "all important departments of the police" were informed about the warning, but acknowledged that no action was taken.
All these comments are now silly, futile and embarrassing for the government in the eyes of domestic and international scrutiny!
Lives have been lost of both local and foreigners, which could have been otherwise if those whose shoulders rested the responsibility of defense and security did their job!
I am happy to learn that dear friend, President Maithripala Sirisena (above) who I had the opportunity of meeting at a welfare program for students during Christmas in 2016 would ask for foreign help to track down the international links to the attackers.
By now it is clear that there are international footprints and fingers behind this barbaric attack!
After the likes of atrocities in Mumbai, Bali, Madrid, Surabaya, Egypt, Pakistan and Nigeria, more needs to be done!
It is time to act against such atrocities by initiating an international network of anti-terrorist task force with authority and power given for cross border and international jurisdictional license to hunt down those involved in such terrorist activities in the name of race and religion, no matter where they hid or which country provides them safe haven or protects them while giving lip service to the world at large!'